The Puget Sound region is particularly suited for rodents
Rats are well established in all urban/suburban areas
Mice are indigenous and abundant in all outlying suburban and rural areas
Since Rats and Mice cause damage, filth, and can spread disease a Perimeter Defense Service in combination with Rodent Exclusion is needed to protect home from rodent infestation.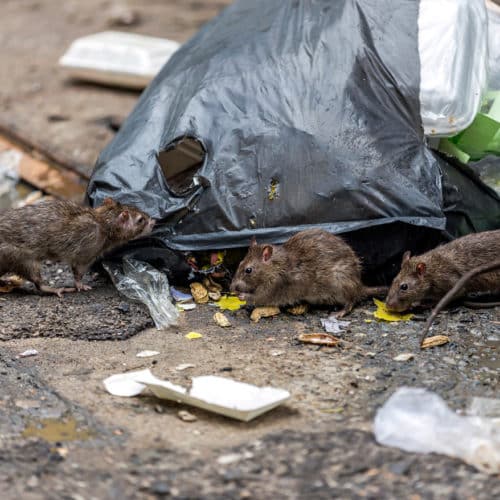 Getting Started
Initiate Rodent Perimeter Defense Service
Cascade's Initial Rodent Service includes
Review and assessment of home exterior and reported areas of concern.
Traps are set within the entries of any attics and substructure crawlspaces. Rats and mice anywhere in attic or crawlspace will find them.
Tamper resistant Bait Stations are placed and anchored at house exterior, usually on each side of home. Traps and/or baits are placed within the stations.
Exclusion recommendations are provided according to findings.
Cascade's Rodent Defense Program
Why is ongoing mouse or rat control important?
Rats are extremely well established amongst urban and suburban environments, found in every neighborhood. And mice are in high numbers throughout certain suburban and rural environments.
The "population pressure" of rats or mice to move into a structure—with all its heating and insulation for nest material—is very high.
Rats and Mice cause damage, filth and spread disease. So, you can't afford to leave your home unprotected.
Rodents are very tenacious and sometimes make full-on assaults on the home. Cascade's maintenance service* comes with a re-treatment warranty. Extra service free of charge.
Rodent Control When Selling Your Home
An Initial Rodent Service is designed to begin full rodent protection for your home. The maintenance service—as well as any rodent exclusion required—is necessary to fully protect the home and be under warranty. However, if you are selling your home you need to address any immediate rodent issue prior to the sale but you won't have possession of the home beyond that. In such cases we conduct our Initial Rodent Service plus one trap-check visit. It will then be up to the new property owner to continue service that provides them full protection and a warranty.
Maintaining a protective perimeter defense around a home (or business) is critical to prevent a reinfestation and Cascade Pest Control's rodent extermination service carries a warranty.
Bi-Monthly Plan*
Cascade's BEST Rodent Protection
Set up and maintain Bi-Monthly* Perimeter Defense System
---
Included every-other month:
Inspect exterior of home
Replenish secured tamper-resistant bait stations around home with fresh bait (noting activity levels)
Check exterior-access crawlspace traps set
Attic Traps checked once per year. (More often in some cases)
Cascade's BEST Rodent Protection Plan includes Free re-treatments for rodents as needed between visits. When rodents have breached the perimeter defenses, we provide extra service at no charge to you.
Quarterly Plan
Cascade's GOOD Rodent Protection
Set up and maintain Quarterly Perimeter Rodent Defense System
---
Included every 3 months:
Inspect exterior of home
Replenish secured tamper-resistant bait stations around home with fresh bait (noting activity levels)
Check exterior-access crawlspace traps set
Attic Traps checked once per year. (More often in some cases)
Cascade's GOOD Rodent Protection Plan includes same periodic perimeter defense system, but not frequent enough to allow for free re-treatment warranty. Extra services, should they be required, carry a separate charge.
*monthly service required with post/pier foundations and mobile homes without excludable foundations.
Rodent Exclusion
Locating and sealing, blocking, or otherwise closing up gaps and holes where rats and/or mice can get into your home. Rodent exclusion includes access points for rats and mice that allow them to enter the attic, wall and ceiling spaces, crawlspace, or even living spaces of your home.
Building rodents out—or "excluding" them—can include:
Repair gaps in crawlspace or attic vents
Close gaps where plumbing enters the home from the crawlspace
Screen or install flashing at adjoining openings on the roof
Seal gaps around garage doors
Repair foundation gaps around sewer drain (rats tunnel through the sewer exit gap)
Remedy crevices around the crawlspace access door
Replace or repair crawl space door that is loose fitting
Trimming tree branches nearly touching roof lines (allowing rat access to attics)
Your Cascade technician will report to you what's pertinent to your home in order to help block rodents.
Special Note: Rodents are very capable of gnawing through many structural building materials so exclusion work alone will not stop them. However, exclusion is critical and when done in conjunction with the perimeter defense bait stations, the rats or mice assaulting your home won't get very far because they will succumb to the baits and/or traps we maintain.
Crawlspace and/or Attic Remediation — Removal and replacement of damage
When rodents have damaged or contaminated attic and/or crawlspace insulation we provide recommendations, and at times referrals, to remove and replace insulation that has been shredded, compressed, or contaminated by rat or mouse infestations. Such rodent-damaged insulation has a substantially reduced R-factor.
Attic and crawlspace remediation is costly being as in either case the workspace is so tight with limited access. Nonetheless, rectifying rodent damage is important in maintaining the integrity of your home.
Special note about rodent damage and sale of home: It is now customary for homes to be inspected, and for the inspection to include evidence of rodents, and any damage to insulation from rats and/or mice. Such damage will have then to be addressed, or it may delay or even thwart a pending sale.
Rodent Control & Extermination in the Seattle Region
The basic approach to rodent control is understood amongst all professional pest management companies in the greater Seattle/Puget Sound region:
Start with a rodent inspection, Provide initial trapping and/or baiting.
Address rodent exclusion needs, and…
Establish and maintain a protective perimeter defense around the home (or business) with ongoing maintenance service.
As Needed — replace damaged and/or contaminated attic and crawlspace insulation.
What sets Cascade apart is our 42+ years experiencing rats and mice in the Pacific Northwest environment and our collective innovation in solving tough rodent problems. Let Cascade Pest Control solve your rodent infestation and keep your home protected from further assaults by rats and mice!
Protect your home with Cascade's Rodent Protection Program today.